Find Your Off-Ramp" From Corporate America
What people get from the program
With Franchise with Bob, you will learn to take ownership of your career and financial future.
Bob's guidance will help you to make smart decisions and understand the full scope of your franchise opportunities.
You will gain confidence in your abilities to successfully take on the challenge of running a franchise.
Working with Bob will give you the knowledge and resources to create a profitable business.
The challenges are real for individuals seeking an alternative to their corporate careers. Disliking your job, grappling with management frustrations, and teetering on the edge of burnout are all too common. The desire for more family time and the dream of building a legacy with autonomy and equity ownership drive your ambitions. However, the path forward often needs to be clearer, filled with conflicting information and hidden agendas. Starting can be daunting, and trust is hard to come by. That's where Franchise with Bob steps in, offering a FREE consultation process. He will leverage his expertise to connect you with the ideal franchise opportunity, equipping you with crucial questions for interactions with franchises and providing tips for confident self-presentation. He focuses on helping you discover and acquire semi-passive franchises, facilitating your gradual transition away from the corporate world while empowering you to seize the top financial opportunities in the franchise industry.
Transforming Career Discontent
You're tired of hating your job and feeling like you're at the breaking point. At Franchise with Bob, he empowers you to make a change. He offers a FREE consultation process that guides you towards semi-passive franchises, providing a clear off-ramp from the corporate grind.
Empowering Autonomy and Equity
Are you yearning for autonomy, equity ownership, and a legacy? His expertise ensures you find the right franchise fit and equips you with the questions and self-presentation tips you need to secure your future, all while focusing on the top financial opportunities in the industry.
Navigating Uncertainty with Confidence
Finding the right franchise information and making connections can be challenging. Bob offers a consultation process designed to give you the knowledge and expertise you need, so you're always in the loop, helping you transition away from corporate America with confidence and clarity.
Process steps that a client needs to take to work with them
initial conversation to try and make sure they are a good fit. If they are a good fit. Complete questionnairee. Consultation on zoom, review the questionnaire. Take all that information create a summary and start matching them with Franchises that are a good fit. Meet and present 5 of the best brands. Narrow down to a few brands and do a deep dive.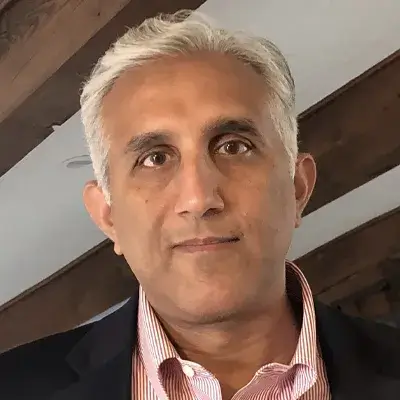 I Couldn't Have Done it Without Bob
"I was very impressed with the level of vetting and due diligence Bob put into every option he showed me. Because I was a first-time business buyer, I was grateful Bob was able to help me formulate the right questions to ask each franchise company."
—Ali, Houston, TX
Bob's Process is Excellent
"Bob was indispensable in finding the best franchise for me. He was critical from the initial conversation to guiding me through the whole process of purchasing my franchise."
—Joe, Dallas, TX
Bob was Always on our Side
"Once we'd decided franchising was the way to go, Bob provided the logic and clarity to select and evaluate viable opportunities that offered a good competitive edge. Bob, I felt like you were on my side of the table throughout the process. Zero wasted time, too. Job well done."
—Benjamin and Krissy, Malvern, PA
I Went From a Corporate Job to Business Owner with Bob's Help
"Bob listened to our "wants" and presented us with relevant opportunities. He stayed in the loop with us through the discovery process and, ultimately, the final decision. I'd recommend Bob to my friends looking for a franchise venture."
—MM, Birmingham, AL
Bob Offered a Wealth of Franchise Options
"If it was not for Bob, I would have never heard of any of the franchise opportunities I considered. Before I became a franchisee, I was an attorney. I will be recommending Bob because "I am sure I will be asked how I did it."
—FD, Ocala, FL
Bob Saved us Months of Effort
"There are so many franchise opportunities out there and they are not all created equal. Bob saved us a great deal of time by coming up with a shortlist of around eight achievable concepts available in our market and that fit within our home-services framework."
—Adam, South Carolina
Bob Helped us Narrow Down the Options
"We were interested in a franchise, but there are a vast number of options. Bob helped us narrow the options to a manageable list.
Bob's process is very well put together. Communication, options and his contact network for allied services are solid."
—Mario & Anexidalia, Temple/Killeen, TX
I Have Already Recommended Bob to My Friends!
"Bob was very easy to work with. I was interested in franchises but I had no idea where to start. Bob asked me a lot of questions and presented me with a wide range of concepts. He was a great guide and presented me with more options than I even knew were possible. Bob is continuing to help and advise me as I start my business. I have already recommended Bob to my friends. Thank you!"
—Patrick, St. Louis, MO
I Have Only Good Things to Say About Bob
"Bob took an extremely complicated and daunting process and simplified it for me. He analyzed my background and immediately connected me with all the right brands that matched my resources and experience to filter down to what interested me and would be successful down the road."
—Drew, Central DFW, TX
I'm passionate about helping people achieve the greatest level of satisfaction and success by helping them find, finance and acquire their perfect franchise match… and become good friends in the process.
Owning the right franchise business is transformative. For many people, it means the difference between a mediocre existence and maximizing your earnings, growing your wealth, taking control of your life and being able to live the way you want.